The universal cleaning partner that saves you
hours every week!
ECO1 Universal cleaner: the powerful all in one cleaner for every surface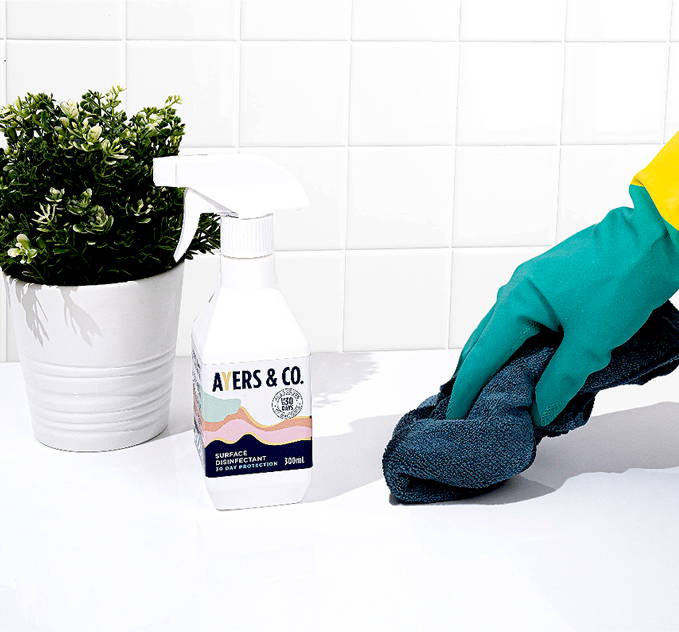 Refill your Ayers & Co cleaner with
eco-friendly refill pouches.
Pop the empty refill pouches into the
reply-paid postage satchel and send it
back to us (for free) earning you a
$10 discount.
We Refill & End Single-use
We'll then clean, refill and reuse the
pouch...putting an end to single-use
plastic. For good.
Ready for the total package? Get our full lineup and save 20% v. buying à la carte.
30 Day Surface Shield x 1.3 litres

ECO1 Universal Cleaner x 1.3 litres

24 Hour Hand Sanitiser x 375ml

24 Hour Hand Sanitiser x 50ml

2 x Magic Microfibers

2 x Glass Microfibers

Scientifically-Proven
Clean



Over 7000 Happy Customers


"With an 8 month old on the move and the messes that come with it I was stoked to find a non toxic eco friendly cleaner for our home. I love that it is Australian made and that 20% of profits are donated. Have won yourself a loyal customer and look forward to trying more of your products in our home."


"I have been using Ayers & Co universal cleaner for two weeks now and am absolutely loving it. It cleans everything from the stone worktops to the sink, and it smells absolutely lush. Knowing it's non toxic and not harmful to the environment makes it an absolute must."


"I absolutely love this product, Clean and fresh finish through whole house, Cleaned with great ease, surprised me actually. Will try more products, Recommend to give it a try and get the wow factor like I did.